Queensland ISM Services is a Brisbane based consultancy providing high quality advice on the interpretation and implementation of the International Safety Management Code for the Safe Operation of Ships and for Pollution Prevention (ISM Code) for Australian registered vessels.

We specialize in coastal, intrastate, single ship and niche operations in the mining, offshore and general cargo sectors.

Queensland ISM Services has extensive experience working with international Classification Societies and various Australian and overseas statutory authorities. Our consultants are all current and practicing managers within the industry as well as being tertiary qualified in their relevant fields of expertise.
Maritime Safety System Management and ISPS Code Internal Auditing
Queensland ISM Services works to your specifications to develop, implement and certify compliant safety management systems. This could include 'fine tuning' your existing compliant system through audit or design and implementation of a new system to meet third party compliance under the Commonwealth Navigation Act or your state's governing act. This includes review and design of policy, procedures, operational checklists, internal and external audit coordination, implementation of planned maintenance systems and training of crew and shore personnel to ensure compliance with these systems. We are also able to provide internal auditing of Ships' Security Plans under the International Ship and Port Facility Security Code.

We also offer internal auditing of ship security systems under the auspices of the International Ship and Port Facilities Security Code.

Risk Assessments
Queensland ISM Services conducts audits and designs risk assessment tools to meet the requirements of the 2010 revision of the ISM Code Section 1.2.2.2. which states that:

"Safety management objectives of the Company should assess all identified risks to its ships, personnel and the environment and establish appropriate safeguards".

Operational Reviews and Management Consulting
Our consultants provides reviews of existing operations in order to assess avenues for improvements in business processes, increase 'safety culture' and to provide systems to increase growth or take advantage of emerging business opportunities.

Project Management
We are able to provide management and overview of short term projects requiring maritime expertise in logistics, operations and process improvement.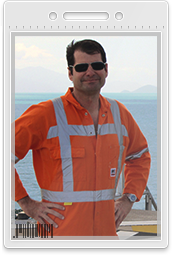 The Principal of Queensand ISM Services is Sean Hinchey. He is a current practising Unlimited Master with over twenty years experience in the industry. He holds a Bachelor of Business (Maritime and Logistics Management) and an Advanced Diploma of Applied Science (Ship Master) from the University of Tasmania's Australian Maritime College. Sean is experienced in offshore oil field support, underwater and bulk/break bulk cargo operations and sailed as Master/Mate and Owner's Representative in a variety of vessels, including Australian Government vessels, hydrographic survey ships, landing barges, offshore support vessels, and bulk carriers. He has specialized in safety management systems and been directly responsible for writing, implementing and certifying over 20 different ships to ISM Code compliance. These ships have successfully achieved issue of Documents of Compliance and Safety Management Certificates via three different Class Societies.
Queensland ISM Code Services is able to provide a range of tertiary qualified and industry experienced Masters, Engineers and other professionals to provide specialist knowledge where required. Our professionals are all currently practicing and have exemplary careers in the industry. Queensland ISM Services is professionally indemnified and covered via public liability insurance.
To discover more about Queensland ISM Services please contact us: